In the city of Rasnov, Romania, is in progress until August 15, the third edition of the Historical Film Festival (FFIR), organized by Rasnov City Hall, which will include 50 screenings of historically-themed productions, 16 of them in premiere, as well as concerts, dance shows, exhibitions, debates and seminars addressing historical topics, Mediafax reports.
According to the organizers, the themes of this year's edition include 9/11, the fall of the Berlin Wall, the theme of colonization, the Teutonic Knights who settled in Transylvania 800 years ago and King Mihai I.
The documentary and fiction films will be running at the Fortress Garden, the Culture House in the city centre and the Rasnov cinema. Also featured on the programme are harp concerts, old princely court music or jazz concerts, traditional dance shows, exhibitions, as well as debates and seminars focused on historical topics.
"This year, film no longer takes up the largest portion of the festival as we wanted to address history under all its guises," Mihai Dragomir, a representative of European Cultural Itineraries, official partner of the Rasnov Mayor's Office in organizing the festival, stated. The organizers also have in store, for children, a screening of "Toate panzele sus," to run every morning between 10 am and 11 am at the city cinema. The cinema will show films throughout the day, until 8 pm, when the series of outdoor screenings starts at the Fortress Garden.
At the same time, organizers will set up a large screen in a residential area for the people who may find it difficult to reach the city centre. The programme will also include a commemoration of the actor Stefan Iordache and a special moment dedicated to the director Nicholas Dimancescu.
Janey Goulding from DenOfGeek.com keeps reviewing all of John Barry's film scores, now it's the turn of
Mary, Queen of Scots
(1971):
'Marking the third of Barry's historical movie outings, this gorgeously delicate score is worlds away from The Lion In Winter and The Last Valley. It is evocative of period, but not exclusively so – it is less dramatic and regal, more intimate and bittersweet, and so its impact is more universal and endearing. In this score, as with The Ipcress File and Midnight Cowboy, Barry composes around specific characters. It is not so much 16th century England that interests him here as the relationship between the two female leads and the men who influence them.
Selected by Hal Wallis, who he would work with again in Follow Me (The Public Eye), Barry blends time, story and sensibility with impeccable charm, giving another dimension to this compelling saga of Mary (Vanessa Redgrave) and Elizabeth I (Glenda Jackson), creating a score of sides and collusions, yet also a tangibly feminine persuasion. 
As an accompaniment to the well-known tale of two royal cousins in monumental conflict in 1558, it largely renounces the pomp and drama that had made Barry such an obvious choice for Hal Wallis after The Lion In Winter. This score is replete with vulnerability, warmth, dignity and heartbreak. As a nod to the period, Barry brings the harpsichord front and centre, but elsewhere uses a delicate orchestration infused with strings, although there are occasional bagpipes and French horns, and also a lute – the instrument of choice for David Riccio, Mary's private secretary. Individual cues use trace elements of the choral style Barry had put to solid effect in The Lion In Winter, but this is an altogether softer, gentler experience.
Mary, Queen Of Scots is a story of duality and conflict. While Queen Bess chooses to be a monarch above all, Mary chooses to be a woman first, lead by the heart and a stubborn desire for Timothy Dalton's pitiful (and pox-ridden) Darnley and Nigel Davenport's beefy Bothwell. Still, Barry ensures that those contrasts are accentuated in a thoughtful and sensitive manner.
His score identifies key elements of empathy as well as conflict between the two women, making seamless transitions between their two worlds. As Jackson's queen makes tacit reference to the ways in which their fates are intrinsically linked, Barry's music accentuates those tragic bonds such that they are made all the more tragic when they are ultimately severed.
The melodic texturing on display here is an early example of Barry's quintessential romantic style, exquisitely placed but, at this point, unexpected. He showed no fear in reworking the landscape of a well-known story, a story loaded with grandeur and association, and his score encapsulates a host of cues that would demonstrate his enterprising instincts and gifts.
His score includes an overture and an intermission, plus a musical interpretation of a poem Mary herself is said to have written; Vivre et Mourir was allegedly a sonnet she composed for Bothwell, found in the infamous Casket Letters. Barry's touching melody aligns strings with flute and brings out the wistfulness of the poem, sung in French by Redgrave; it's a halting, tender refrain, evocative of chanteuse Francoise Hardy.
Elsewhere, there is the dynamic But Not In My Realm and the brooding Black Night, but perhaps the most identifiable aspect to the score is Mary's Theme, played in romantic interludes with Bothwell. This theme describes perfectly the emotional resonance at the centre of the story; warm, feminine and heartrending. Later on, it would be turned into a song and recorded by a variety of artists, most notably Scott Walker.
There is a tremendous depth, as well as quality of material, to the score for Mary. Composing the music for this film was said to be a true joy for Barry and resulted in an Academy Award nomination for best original dramatic score.'
Read more about John Barry's original scores in denofgeek.com
Of all the amazing-looking films premiering at the Toronto Film Festival in September, I'm perhaps the most perversely curious about Anonymous, the Elizabethan drama from none other than Roland Emmerich, master of apocalyptic mayhem in movies like Independence Day and 2012. Not only is it set in the hoity-toity Elizabethan era, but it's actually about Shakespeare, or rather, the anonymous playwright who actually wrote Shakespeare's most famous works. Between the whiplash-inducing contrast of Emmerich making a historical drama and the bizarre use of Radiohead's "Everything In Its Right Place" in the first trailer, Anonymous looks entirely unpredictable.
The mystery keeps deepening in another new, presumably international trailer that popped up online today. The Radiohead is back, along with a lot of shouting about the power of words and the imperious presence of Vanessa Redgrave as Queen Elizabeth I.
The one thing that's a little maddening about these trailers is that they don't make it all that clear who the players are– who is the author writing Shakespeare's words instead of him? Why are there cannons being fired? How exactly is Elizabeth involved? The trailer does a good job conveying atmosphere, though, and the sense that this is an Elizabethan drama cranked up to a new level. What can I say, I'm still intrigued, and maybe still hoping a world-ending tidal wave might come into play. Anonymous will premiere at the festival in Toronto before opening worldwide on September 30, so expect to be hearing much more about it very soon.
Source: cinemablend.com
The series is set in the fictional Downton Abbey, stately home of the Earl and Countess of Grantham, and follows the lives of the aristocratic Crawley family and their servants early in the reign of King George V. The series spans the two years prior to the Great War, commencing with news of the sinking of the Titanic, in April 1912 to the outbreak of the First World War on 4th August 1914. Much of the focus is on the need for a male heir to the Grantham estate, and the troubled love life of Lady Mary as she attempts to find herself a suitable husband.
The first series debuted on 26th September 2010 and cost an estimated £1 million per episode. It is also the most successful British period drama since Brideshead Revisited, with British ratings exceeding 10 million viewers. Similarly, the series enjoyed with huge critical acclaim and successful ratings in the United States, averaging over 6 million viewers per episode.
The second series will premiere on 18 September 2011, and will be followed by a Christmas special. It previewed at Highclere Castle on 29 July 2011.
It will be composed of eight episodes, running from the Battle of the Somme in 1916 to the Armistice in 1918. In between those dates, other historical events the second series will cover is the Battle of Verdun, the Russian Revolution and the British capture of Jerusalem; on the domestic front there is a serious shortage of able-bodied men for home front jobs, also there is the election of David Lloyd George as Prime Minister (whom the Dowager Countess despises) and his creation of the wartime coalition. Matthew Crawley, Thomas, and William Mason are off fighting in the war, while Lord Grantham cannot serve due to his age and Tom Branson is unsure that he wants to fight for England. Lady Sybil Crawley defies her aristocratic position and enlists in Queen Alexandra's Royal Army Nursing Corps.
It was confirmed at the preview of the second series on 29 July 2011 that Fellowes was storylining a third series, set after the Armistice and during the 1920s.
James Cameron's movie
Avatar
conquered the Chinese box office in 2010 and received positive reviews, even if the Hollywood blockbuster was reportedly being pulled from nearly 1,600 2-D screens across China, to benefit the wide release of
Confucius
. China's State Administration of Radio, Film and Television responded to criticism by stating it was a "commercial decision", and because the "box office performance of the 2D version has not been great." However, due to low attendance for
Confucius
, and high demand for
Avatar
, the Chinese government reversed their decision, and allowed
Avatar
to remain on some 2-D screens in China, as it was grossing nearly 2.5 times more money per day.
Why did the Chinese people like Avatar, much more than their very own national "avatar" Confucius? Why do the Americanized futuristic blue skinned freedom fighters won over the "blood and soil related" ancient Chinese saint?
Some in China were worried that young Chinese, influenced by Western thought, didn't show interest about their past and traditions, and saw Confucius' philosophy as conservative and reminiscent of a feudal society, teaching values that ask to docilely obey someone just because they're older.
Confucius
, with a $22 million budget, has made a modest international run in 2010 and 2011, grossing near $4 million in European and Asian markets, just a decade after international sensation
Crouching Tiger, Hidden Dragon
, a Taiwanese-Chinese-Hong Kong-American co-production directed by Ang Lee, grossed worldwide the impressive mark of $213 million ($85 million in the US market included), vastly surpassing its original production budget of $15 million. 
After that year, the big Chinese historical movies, especially in the epic, adventure and fantastic (wuxia) genre, saw their budgets go up and international distribution becoming indispensable. 
For most of these films the Asian market is the primary market outside China, being South Korea, Singapore and Taiwan the highest grossing markets. But when a Chinese film is able to catch international attention, the European and North American markets can become very profitable for these productions.
Hero (2002) grossed $177 million on a $31 million budget (the most expensive Chinese film then). 
House of the flying daggers (2004) grossed $92 million on a $12 million budget,
The Promise (2005) grossed $31 million on a $42 million budget (the most expensive Chinese film then).
Curse of the Golden Flower (2006) grossed $78 million on a $45 million budget (the most expensive Chinese film then).
The Warlords (2007) made $42 million on a $40 million budget.
Red Cliff (2008) has grossed $248 million on a $80 million budget (the most expensive Chinese film to date).
In Red Cliff case, it was Japanese market with $54 million that made possible the worldwide gross to sky rocket, and not the Western markets that were much less profitable. In fact we can state there is a falling tendency in Western markets towards Chinese epic films. Confucius is part of that tendency, although it's true it's not that much of an epic and action oriented film and had a smaller production budget, so lower interest was to be expected.
But what are the reasons behind the West becoming gradually less enthusiastic about Chinese historical films? Usually these films are praised for their production design and lavish visual style, but criticized for their lack of narrative and screenwriting values, and also for a bit too much of 'nationalistic' tone to suit westerners' taste.
AMC is going back to the wild west with 'Hell on Wheels.' The network announced the official premiere of the new series about the post-Civil War era construction of Transcontinental Railroad.
It will be written and produced by Joe and Tony Gayton and developed by the American branch of Endemol. Its first season, consisting of 10 episodes, is scheduled to premiere on the cable channel AMC on November 6, 2011. AMC is responsible for very successful programs like Mad Men, The Walking Dead, Breaking Bad and 2006 old west mini-series Broken Trail.
The series tells the tale of Confederate soldier Cullen Bohannon, played by Anson Mount, and his journey for revenge after the wartime death of his wife. Look for the series to also examine the hardships of immigrants and African-Americans and delve into the rich history of the railroad. The term "Hell on Wheels" is a phrase describing a collection of business locations such as gambling houses in the 1860s.
Rapper and actor Common also stars as Elam Ferguson, an emancipated slave trying to enjoy freedom in a world filled with prejudice, Dominique McElligott as Lily Bell, Colm Meaney as Thomas "Doc" Durant, Ben Esler as Sean McGinnes and Philip Burke as Mickey McGinnes, and Eddie Spears as Joseph Black Moon.
Source: AOLTv
Title: The Three Musketeers
Genre: Action, Adventure, Romance
Director: Paul W.S. Anderson
Cast: Logan Lerman, Milla Jovovich, Matthew Macfadyen, Ray Stevenson, Luke Evans, Mads Mikkelson, Gabriella Wilde, Juno Temple, Orlando Bloom, Christoph Waltz
Writers: Alex Litvak, Andrew Davies
The new remake of Alexandre Dumas' swashbuckling novel will be released in October 2011. Director Paul W.S. Anderson penned the script with Andrew Davies, (screenwriter of 1995 Pride & Prejudice and many other period dramas). Anderson sought out Davies, knowing the project needed a script that was strong in character and romance to complement the action.
After Avatar's technological breakthrough in 2009, we had to wait until fantasy adventure film Pirates of the Caribbean : On Stranger Tides to be the first film entirely shot in 3D with a historical setting. The next 3D period films to be released will be already mentioned The Three Musketeers turn, and Wrath of the Titans (the sequel for Clash of the Titans) in March 2012.
Will we see more and more 3D historical films in the future? The genre has taditionally required elaborate and panoramic settings, on-location filming, decor, authentic period costumes, inflated action on a massive scale and large casts of characters, and a sweeping visual style.
The Borgias is a historical fiction television series created by Neil Jordan. The series takes place in late 15th century Rome and is based on the Spanish Borgia dynasty. It stars Jeremy Irons as Rodrigo Borgia, later Pope Alexander VI.
The premium cable network Showtime announced on April 25 that "The Borgias" had been renewed for a second season, currently filming in Hungary, which wasn't a surprise given that the Showtime replacement for "The Tudors" has been exceeding the top-rated season for that semi-historical soap opera.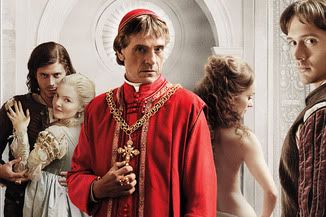 Creator Neil Jordan has stated that: "I saw this a four-year project really. In the first season, I felt like it was my job to very carefully plot out the historical context. Now, as I'm writing the second season, I can get much more down and dirty much more quickly. It becomes much more drenched in blood."
The director added that Cesare (Francois Arnaud) and Lucrezia (Holliday Grainger) will become more "evil" in the new season. "They've only begun to learn evil," he said. "I really did want to present them as characters who have learned to become the monsters that we know."
The period drama has been nominated for 6 Emmy awards in its 63rd edition that will take place in September 2011. While that may not be as many nominations as Boardwalk Empire (18) or Game of Thrones (13), this period drama still has a shot to take home awards in several prestigious categories. The six nominations are:
- Outstanding Directing For A Drama Series
- Outstanding Costumes For A Series
- Outstanding Original Main Title Theme Music
- Outstanding Art Direction For A Single-Camera Series
- Outstanding Cinematography For A Single-camera Series
- Outstanding Special Visual Effects For A Series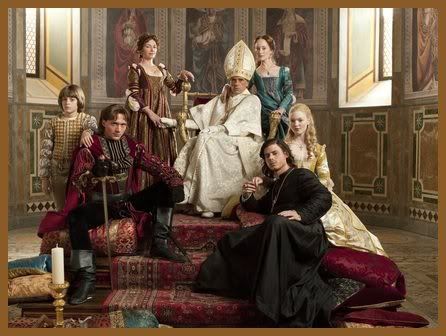 The Borgias Season 1 DVD release will be 30 August 2011 in Canada, and is yet to be confirmed in the United states but most probably expect the same date or close to it. The show has also to make its TV run through Europe, it will premiere in the UK on Sky Atlantic on August 6.
In the last years very few chanbara films have been distributed outside of Japan, the most recent is 2010 film '
13 Assassins
' directed by Takashi Miike. After grossing $17 million in Japan, it was first released in the United States in April 2011, grossing $0.8 million, then in the United Kingdom ($0.6 million) and Italy ($0.2 million). Good enough figures taking into account the original budget of approximately $6 million. In August the film will be released in Spain.
Also the movie was just released in July in DVD and Blue-Ray in the US market, and will be available in the UK in September.
The film was produced by Toshiaki Nakazawa, who also produced the 2009 Academy Award for Best Foreign Language Film Departures. Jeremy Thomas, the film's executive producer, has a reputation for successfully bringing Asian titles into the international market, most notably Bernardo Bertolucci's nine-time Oscar winner The Last Emperor, Nagisa Ôshima's Merry Christmas, Mr Lawrence and Takeshi Kitano's Brother.
Set at the end of Japan's feudal era, '13 Assassins' – a "masterful exercise in cinematic butchery" (New York Post) – is centered around a group of elite samurai who are secretly enlisted to bring down a sadistic lord in order to prevent him from ascending to the throne and plunging the country into a war torn future.
A controversial mini-series about the Kennedys is now being screened in the UK. It has been criticised in the US over its historical accuracy, despite being labelled as fiction. So how much does accuracy matter in historical dramas?
It was originally scheduled to run on the US channel History but was cancelled earlier this year. In a statement executives said such dramatic interpretation was not "the right fit" for the channel.
The old questions about historical fiction then arise:
Would anyone watch a drama without any dramatisation? Is historical accuracy just boring?
Are dramatisations often an excuse for a political agenda? Or do they just tell us more about our present than about the past?
Read the full article at BBC News.